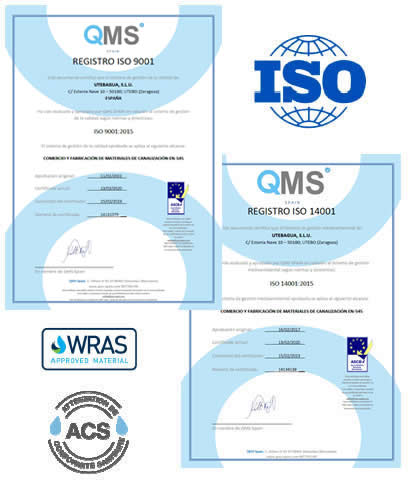 Utebagua, S.L.U. was founded in 2000 with the vigor and illusion of a team with great experience in the sector, achieving in a couple of year one very important market share, becoming one of the first suppliers of ductile iron fittings, getting a recognized prestige in this difficult and competitive market.
In 2001 gets certification of Q.M.S. of ISO 9001, and in 2016 of Environmental Management System of ISO 14001 standard.
All manufactured fittings are gathered in standards EN 545, ISO 2531 and EN 12842, fulfilling all the requirements of these standards.
Our range of products comprises diameters from 80 to 1000 for Mechanical joint, 80 to 1200 for Push-On, from 40 to 800 for loosing flanges, 80 to 1600 for fixed flanges and from 40 to 800 for fittings for PVC and PE, completing a huge range of options for satisfying our clients.
Our fittings are suitable for work-pressures of 10, 16 and 25 bar and we have a huge material stock in our facilities, which makes possible one excellent delivery time. Under request we can adapt ourselves to any coating demand for sewage, reused water, etc. in different colors as red, violet, etc.